Ultimate Solution For Digital And Analogue Communication
Digital Display Invertors
Topaz Inverter's, with reliable, regulated and stabilized Pure Sine Wave Output, is a complete power generation system that is suitable for all types of commercial establishments and is capable of running everything from Lights, Air Conditioners, Lifts and Elevators & Welding Arch in the most cost effective manner.

Inverter series supplies pure power is 100% safe to run most sophisticated, expensive and sensitive office equipment without the irritating humming sound.
It has already established itself as a most reliable option to generators for Industrial applications & work as a complete power generation selection.

This power is actually purer than power supplied from the grid.
This makes it absolutely safe to run even the most sensitive equipment.

Digital Signal Processing (DSP), the world most advanced technology (meant for high-speed data processing), in conjunction with Sine Wave Technology delivers output which is completely stable and distortion free .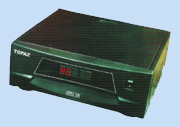 »This Portal Is Under Going maintenance , We Are updating it.